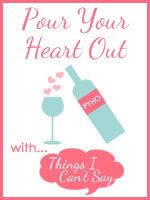 Living with the mistakes of the past is hard.
No matter how badly you want to move forward and let go…
Sometimes it can be difficult.
Despite the road that life has led me down, letting go of the disappointment that came from flunking out of college only two semesters in, has been one of my hardest battles.
I always felt like I let so many people down, including myself.
Having graduated with such high honors and voted "Most Likely to Succeed" by my Senior Class (no pressure there, right?) left me feeling like so many people expected to see big things from me.
Everyone expected me to go above and beyond…to accomplish great things…to be something great.
And then, when I didn't…there was embarrassment. There was shame in everything that I didn't do…everything that I didn't accomplish.
More than anything, I always felt like I let my parents down. My parents who worked hard and sacrificed to pay for my Private School Education. Parents who always pushed us (my sister and I) to be better…to be more…to have  a life outside of the four walls of small town living.
Even after my life took a turn and I became a wife and mother, those nagging thoughts remained.
"You still failed. You still didn't accomplish anything more than any other woman who becomes a wife and mom. You're just like everyone else."
Starting my own business has given me a renewed sense of pride in myself and what I do. I'm contributing to our family financially. I'm chasing down what I want to do, with or without college. And I'm loving every single second of it.
And for the first time in over five years, I don't feel shame anymore.
I don't feel like a disappointment.
Because yesterday four little words from my mom changed my entire mentality…changed my entire perspective, and washed away the guilt and shame I've felt for a long time:
I'm Proud of You.