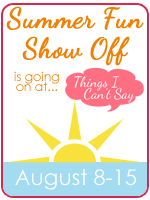 It's hard to believe that summer is drawing to a close. The kiddos will be getting ready to go back to school soon (including mine…who will be starting Pre-School in October) and soon all of us "Alaskans" will be preparing for the long, dreary extended hours of darkness. We don't live in one of the areas where it's dark for 30 days or anything. But, we do (from what I could tell when we got here) have some crazy hours of light and dark here.
So, like most of the others here on the island, we've spent our summer soaking up the sunshine and the daylight. Here's a peek at our summer:
Since you can't really go swimming here (except on certain days at the Gym's pool), our summers are spent enjoying the gorgeous scenery, overlooking the fishermen as they go about their busy schedules, and watching as the leaves and flowers finally start to bloom. Oh, and we bake. And eat chocolate. You know…messy stuff.
We also play at the park…a lot. We live up the days when it's warm enough (and dry enough!) to bust out the flip-flops—and I'm given an excuse to actually paint my toenails. We get excited about the weeds growing in the yard because they finally bring some color to the island. We hang the flag without worry that it might blow away; we slide and we jump and we shoot hoops. We wear our sunglasses late into the evening because the sun is still shining at 9:00 pm. We laugh and we play and generally just enjoy the everyday moments we have together here as a family.
What did you do this summer? Head over to Things I Can't Say and show off your summer photos!
PS-How are you liking the new look? You can thank Mandi @ My Perfect Mess for giving me the itch to redesign again. Go check out her site, too. She did a fabulous job on her blog makeover. And, please don't bother with the "Oh my gosh! You changed your site again!" comments. You guys know me well enough by now to know that I'm a person of change. Hehe. 🙂