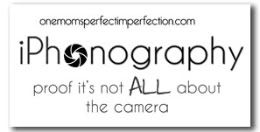 My lovely friend Jessica @ Freckles and Dirt has written a great post today called Did I Ask for your Advice? Make sure you check that out while you're here! It's hilarious and something that we can all relate to!
I wish blog buttons would play nice. I love showing off everyone's cute meme buttons, but it would make my life so much easier (okay, not really easier…but the OCD would be happy) if they would all just line up in a perfect row and sit side by side without huge white spaces between them.
Ahem.
Anyway. Another week has come and gone. Can you guys believe that we are halfway through the month of August already? I know most everyone with older kids sent them back to school this week; and if you haven't you're probably getting ready to.
We're winding down our summer here in Kodiak. Apparently the locals are anticipating an early winter this year. Which doesn't seem to surprise them because we've had such a "nice" summer. I didn't expect any different. Winter is right around the corner, along with Little  Man's third birthday and Christmas. Pretty soon we'll be knocking on the doors of 2012 (and the end of the world, right?). But enough of that. Here's a little look at how we spent our week:
(Set One) We spend a lot of time at the park this week. We got the stroller out and took a little walk, enjoying the sunshine and the warmer temperatures. Little Man took his puppy dog down the slide. And then insisted that his daddy and I go down, too. I'm not as young as I used to be. Why on EARTH do kids like going down those static infested things?
(Set Two) Little Man pretty much hates the iPod. And InstaGram. I'm not sure why it's so much different than the regular camera, but he gets really annoyed when I try to take his photo with it. Can't you tell? That face says it all. But he's still pretty crazy about his dog. Tessa kind of digs him. She's a bit motherly toward him, follows him around the house and outside if he goes to play. She won't let him out of her site. She does get somewhat annoyed when he tries to pet her, though. Maybe that's because his version of "petting" is knocking her in the head. Repeatedly.
(Set Three) I found this precious Little Coastie tee at our Exchange this week. Got it on sale for $7. I haven't put it on the little guy yet, but I'm eager to see how he sports it. We have been getting some really ridiculously good watermelon here at our Commissary lately. I bought one last week that was HUGE. The thing cost me $14.00 and was worth every single penny. We devoured it in about three days. Despite my recent diet and weight-loss goals, the husband insisted we eat Taco Bell the other night. We have a KFC/Taco Bell combo place so I "splurged" on one tiny little Chicken Snacker. The little man had Fiesta Potatoes. And a Sprite. See photo.
(Set Four) I pretty much love my $20 knockoff Dolce & Gabbana sunglasses. I bought them last summer and they've lasted me this long. They aren't even scratched. Which is a miracle for me. I usually destroy sunglasses within the first few weeks of buying them. Which is why I buy knockoffs. The clouds here the other day were amazing. Light and fluffy and the sky was the bluest blue I've seen in a while. I could have snapped photos of the clouds all day long.
(Set Five) The Little Man pretty much adores our trips to the Commissary because we drive right by the C-130 Hangers. On nice days, you can usually see them out getting ready to leave or coming back in. And there is always a helicopter somewhere close by. He tries his hardest to see all that he can when we're riding. Do your kids BITE their popsicles?! Little Man does and it shoots chills up my spine just thinking about it. And it makes my teeth hurt. I know Shawntae said that King does, but really? How do they do that? And he's been trying to feed his Popsicles to me as well. They're good, and I like them just as much as the next person, but he pretty much tries to shove them completely down my throat. And that's just not cool.
(Set Six) See? I told you the clouds were gorgeous…and that little man was obsessed with Popsicles…and that we had ugly carpet in our house. Oh wait…I didn't tell you that we had ugly carpet? Well, we do. And it's hard as a rock and really uncomfortable to lay on. PS-Those Nike's I'm wearing? Worst shoes ever. They are made for running but they hurt my feet like CRAZY. I'm ordering these this week sometime. Husband just got his and loves them. What kind of shoes do you run in?
Hope you guys had a great week! Make sure you link your photos up with Courtney @ Perfect Imperfections, Amy @ A Good Life, and with Jeannett @ Life Rearranged.
Don't forget to go check out Jessica's Post: Did I Ask for your Advice?!