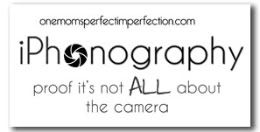 How was your week?
Things were good here. Despite wishing I was at #BlogHer and trying to get caught up on blog comments, things were pretty low key around here. I started my C25K Program on
Monday, started keeping track of calories again using My Fitness Pal, and I just feel better all the way around.
It's been a good week. As per my weekly usual, here's a little run down (in photos) of what we've been up to since last Friday.
(one)
One of the little guys favorite things to do, is sit with me when I get dressed. He plays with my makeup watches curiously as I apply mascara and eyeliner, and he loves for me dry his hair when I dry mine. Of course, he has to brush his as well. (two) He's also a pretty big fan of sitting behind the wheel. We were cleaning out the car the other day and climbed in to play. He adjusts the volume on the radio, messes with the wipers. You can usually tell when he's been in the car playing. Everything is all out of whack. (three) When the sun shines and the clouds aren't gray and dreary, Kodiak is really one of the most beautiful places. Ever. Don't those clouds look like they are painted on?
(four)
Because of the deliciousness of my birthday cupcakes a few weeks ago, I had to try my hand at making some more (last weekend…not this week). They were pretty darn fabulous. (five) Last Saturday I had some blood drawn. Let the husband do it (and YES he is qualified to draw blood and give shots, and NO we didn't draw blood at home) and I didn't even bruise. He's that good. Oh, and he picked out my Band-Aid for me. Cute, huh? (six) A friend gave me this little plant for my birthday. Surprisingly enough, it's managed to survive for a while. It shocked me, because I have a total black thumb. 


(seven)  Hubs and I each bought new Nalgene bottles at the Sports Shop here. It definitely makes drinking the suggested 8 cups of water per day bearable. (eight) The little guy has become quite a fan of our daily walks. He loves his jogging stroller and always seems to enjoy our time out and about. On the days it's cooler, he even drags his blanket (as seen in this photo) with him. (nine) Just a snapshot of the wildflower bouquet the husband bought me. Daisy's are my favorite.

(10-12) The many faces of the little guy. Munching on a Cake Pop from Starbucks; begging for me to take his picture, and just being his sweet not always  innocent self.
(13) The route that I walk with the little guy goes up and by the landing strip at the airport. The "regional" airport and the Coast Guard C-130's share a strip. Remember the photo of the plane crossing the street in front of us? This is a little farther down the runway. We watched the plane get ready to take off. Little Man was in heaven. He even waved at them. "Hey, Airplane! Hey!!" he repeated over and over and over again as they rode by. (14) I'm not a big fan of lighter color shirts, but this one I bought kind of stood out. I'm digging it right now.  (15) The husband had duty last night. Little Man and I always take him supper, and last night he helped Daddy get some work done.
Don't forget you guys can link up your weekly iPod, iPhone, "i" don't have an i device shots with Courtney @ Perfect Imperfections, InstaFriday hosted by Life Rearranged and Weekly Recap with Amy @ A Good Life.
Everyone enjoy your weekend! Make sure to come back tomorrow for Spotlight Saturday!
Did you see the winners of our very first Still Life Standouts? You can find them here!