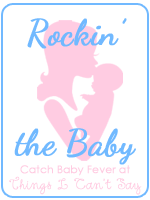 You know, when you're growing up three years seems like an eternity.
You turn 13 and you just know that the next three years, the time you have to wait to get that all important drivers license, is going to just drag.
Time seems to speed up ten fold when you have a child. It's hard to believe that in just a few short months, my little man will be three years old.
Three. It seems like yesterday I was finding out I was pregnant, and then later holding him for the first time.
[Top Left to Bottom Right] (1) One of our first photos together. Seriously love at first site. (2) Leaving the hospital and heading home. My hair straightener broke…which explains why my hair looks like frazzled straw. (3) Our first photo at home together…with a touch of jaundice. (4) Little Man at just three days old. He had his first doctors appointment on Halloween, so we went out to Bubba Gump's afterward to celebrate a healthy first checkup.
[Top Left to Bottom Right] (1) His favorite place to fall asleep during those first few days home from the hospital. (2) He had a hard time burping after being fed…the only way to do it was to drape him over your arm. He had a tendency to latch on and not let go. (3) His first Christmas…a tiny little butterball who adored his mama.  (4) Around two or three months old he hit this spell where the only way he would sleep was draped across someone's chest. It wasn't the most comfortable to us, but I wouldn't trade those little moments for anything.
Almost three…
these days seem like a hundred years ago.
Now look at him…
He's still kind of crazy about his mama.
Make sure you guys go link up with Shell @ Things I Can't Say for her Rockin' the Baby linkup!
*The last three photos were taken by Amy @ Simply B Photos and are under her copyright.
If this is your first visit and you liked this post, you may want to subscribe to my RSS feed, follow me on Twitter or hit me up on Facebook! I love connecting with new readers!