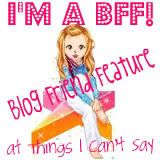 Today, I have the honor of being featured as the Blog Friend Features writer with Shell @ Things I Can't Say. I don't know if you guys know Shell or not, but she's the genius behind the Pour Your Heart Out Meme every Wednesday. Shell is one of the most genuine bloggers I've met. Her writing is fantastic, and she's constantly giving back to the blog world. Today, she's giving back and featuring me over in her space. Make sure you head over and check it out! I'm SO EXCITED.
Here's a little peak at what I've written:
…………………
I thought a lot about what to write for this post. When Shell emailed me, I started making notes and trying to decide what I wanted to say. Of course, I want to dazzle you all with my fabulous way with words and all that, but I wanted this post to reflect who I am as a blogger and as a person. I like to think that I can be funny, though my attempts at humor are somewhat overlooked. I get a lot of those "cricket" noises when I attempt to crack a joke. In actuality, I'm just an ordinary mama, with a pretty extraordinary life.
But that hasn't always been the case.
It hasn't always been my mindset…that I had an extraordinary life.
For a long time, I was unhappy. I was depressed. I was stuck in some miserable form of existence where I didn't like who I was, where I was going, or the people around me.