Who said this whole "parenting" thing was the hardest job in the world?
Because they were right.
I'm ready to throw in the towel these days, guys.
"Three" is kicking my butt. Big Time.
And we aren't even at three yet. We're still about six or seven weeks out.
And I am tired.
Tired of the whining. Tired of the tantrums. Tired of the cartoons and the fussing and the defiance and the clinginess and the messes and the crumbs and the dirt and the whining and the exhaustion that comes with my every day life of being a parent to a toddler these days.
I'm tired of being told "NO!" more times than I can count.
I'm tired of every. single. decision. that doesn't go the way that my son wants being met with one of those monumental breakdowns that includes (but is not limited to) crying, screaming, whining, kicking and hitting.
I'm tired of being the only one who can put my son to bed. Or get him dressed. Or get him out of the car. Or give him a bath.
It isn't that my husband doesn't volunteer (though with his work schedule he's as busy as I am). It's more that Little Man doesn't want daddy to do those things. He wants mommy.
He wants mommy to take care of everything.
I'm tired of freak-outs that could destroy Western Civilization because that one particular toy that hasn't been played with in eight months, is missing. You know. That one toy that came in a Happy Meal and is only about three inches long. That one. That can't be seen with the naked eye. But that your kid just HAS to have or their life is going to end. That toy.
And it doesn't stop at being mommy. There's a whole different post that could be titled "I don't want to be a Wife today," too. One that includes the fact that I'm sick of doing laundry and providing meals that aren't from the freezer section of the grocery store.
But that's another post.
Right now, I can only focus on the fact that this terrible three's thing is no joke.
And mommy is freakin' tired.
And ready lock herself in a padded room with a bottle of wine and tell everyone to leave me alone.
Because mommy is just plain tired of being mommy these days.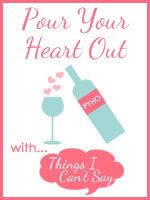 Okay. Now let me go ahead and address those who might read this and throw in one of those "you should be thankful you have children" kind of comments. My daily readers and frequent visitors will understand, without having to be told, that I love my son past the point of words. Don't believe me? Think I'm a horrible parent? Go read these. And then come back and tell me that you understand why I'm ready to pull my hair out these days.

Linking up with Shell today for Pour Your Heart Out.