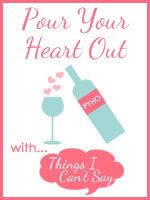 Growing up my mom was a stay-at-home parent. She did the school parties, the extracurricular activities, the housework, the laundry, the cooking…you know. Typical "mom" stuff. She rarely complained (though I chalk that up to the fact that when we got old enough, she made my sister and I start cleaning and doing laundry).
I always anticipated being the same way. Being there for all of the parties and whatnot, never having an excuse not to attend a baseball game or a Pep Rally. I wanted to do those things. I still do. But in the months and years that have passed since Little Man was born, I've realized something:
Just being a mom isn't enough for me.
I want more for myself than a lifetime of diapers, formula, play dates and PTA.
And I don't think that we mom's should have to hide that fact.
We shouldn't hold our heads in shame and be afraid to say that we don't want to be mommy's all day, every day for the rest of our lives.
We are people outside of parenting.
We are women with goals and ambitions and desires and dreams.
We don't HAVE to let ourselves die when a baby is born. We don't have to let go of everything that we've wanted out of life the second that we become parents.
For a long time I felt guilty for thinking that. For loving my son to pieces, but knowing deep in my heart, that no matter how much I love him, just being a parent all the time wasn't going to do it. It was never going to completely satisfy me and complete me.
I needed more. I needed a creative outlet that didn't involve crayons and smearing chocolate all over any tangible surface that could be found. I needed to be able to express myself without worrying about what other people thought. I needed to be able to confess that sometimes, being a mom just really bites. And it's HARD.
I confessed this thought to someone right after Little Man was born. My comment was simply, "I love naptime. It gives me a chance to be without the baby for a few hours everyday."
I thought all mom's felt that way. That we all looked forward to a few hours (or even minutes!) of quiet, alone time.
Apparently I was wrong. That comment was received with horror and I was given the evil eye and a gasp, followed by something along the lines of, "I hate to be away from my baby for even just a few minutes. I stand and watch him sleep almost every day because I can't bear to part from him."
So I spent a long time thinking that there was something wrong with me for wanting to be away from my son for a few minutes every day.
But there's not.
I'm actually quite normal when it comes to this parenting thing.
I love my kid. Love him to pieces, and am probably going to bawl my eyes out like a big fat baby the day that I ship him off to preschool for the first time.
But you know what?
After I dry my tears, realize that it's only a couple of hours, and make it through that first day…
I'll probably revel in the newfound freedom that comes from having a kid in preschool.
The freedom to watch what I want to watch on TV, to nap if I want to nap, to clean without interruption (or without having to back-clean after someone dumps Goldfish on the floor and stomps on them), or to just sit and read a book.
And that fact, that enjoyment of temporarily not being a parent, doesn't make me any less of a mom than anyone else.